Skip to end of metadata
Go to start of metadata
https://www.flsun3d.com/product/4.html
The FLSUN was donated by David Bearon and his family. And will be housed at Purcellville.
The QQ-S Pro and the Q5 are delta printers. This is a different style than your typical X/Y/Z printers. There are three arms that come down to move the head on a circular bed. They have auto bed leveling and should only need to be leveled once.
Printing Process
You will use Cura to slice your models.
Copy the file to a USB Drive, 
Choose print from the screen menu
Select your file
Hit print.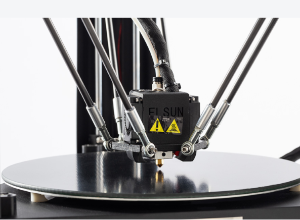 Printing principle:

 

FDM (Fused Deposition Modeling)

Printing speed:

 

30-120mm/s
Printing layer thickness:

 

0.05-0.4mm

Print accuracy:

 ±0.1mm

Equipment volume:

 

286*348*780mm

Equipment weight:

 

13Kg
Printing volume:

 

Diameter 255*Height 365mm

Nozzle diameter:

 

0.4mm

Number of nozzles:

 

1

Display screen:

 

3.2" full color touch screen

Connection type:

 

SD card/USB/WIFI
Printing material:

 

PLA/ABS/PVA/HIPS/WOOD

Input format:

 

STL, GCODE, OBJ




FLSUN QQ-S is designed for speed, the printing speed is 1.5 times that of the I3 structure printer, and the printing accuracy is the same. Relying on the high-speed products and high-quality services, it has been unanimously recognized by customers at home and abroad. It has a flexible three-axis linkage system, a powerful 32-bit motherboard, a 24V power supply, a lattice hot bed, and an all-metal side shell to ensure better printing quality and a more stable structure.
Instruction Manual (You can ignore the Build Instructions)