Skip to end of metadata
Go to start of metadata
Time and Location:
---
August 31, 1019 at 7:00PM at 785 S.20th . Street, Purcellville, VA
Consent Agenda
---
Newly proposed agenda items appear in the consent agenda. Any member present at the meeting may pull an item out of the consent agenda for discussion, at which point it goes under "New Business". If nobody objects to the solutions presented by the consent agenda, everything in the consent agenda passes by consensus. Items that have more than one proposed solution should be moved to the "New Business" section.
Any member may edit this wiki page and place an item on the agenda. However, discussion of agenda items should be done via Slack. The cut-off time for addition to or revision of the consent agenda items is 48 hours prior to the meeting. Please note, agenda items (Consent, New, or Old) that request spending $250 or more must include a section on "Relevance to our tax exempt purpose".
CA1 Quickbooks Purchase (John Dubelko )
Problem:  Another copy of Quickbooks is need to train a new treasurer 
Solution: Board approve funds to be used for this purchase for Techsoup.  Item is listed for $50.  Adding $10 if there is tax and other fees.  
Relevance to our tax exempt status: None
Motion: Board approve the purchase of 1 copy of Quickbooks not to exceed $60
CA2 Full Member Consideration (John Dubelko )
Problem: Makers want to make! 
Solution: Michael DeWan and Anthony Lesink are applying for Full Membership in Makersmiths and have taken new member orientation. 
Relevance to our tax exempt status: none
Proposed Motion: Approve Michael DeWan and Anthony Lesink as a Full Members of Makersmiths.
Committee Reports:
---
New Member Orientation Committee (Chairperson Jessica Maloney)
Membership Committee (Vacant)
Social Outreach Committee:  (Chairperson Jessica Maloney)
Leesburg Facility Committee (Chairperson Brad Hess)
Purcellville Facility Committee (Chairperson Tom Hill)
Special Projects Committee (Chairperson Mike Werling)
New Business:
---
NB1 Complimentary Membership (Brad Hess)
Problem: Application for complimentary membership
Solution: Award 3 month complimentary membership to Chris Horn.  See attached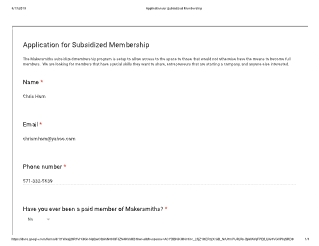 Relevance to our tax exempt status: None
Motion: Award Complimentary Membership to Chris Horn with the following stipulations: (1)Take New Member Orientation (2) Teach classes; Number TBD (3) Open Leesburg on a TBD schedule
Minutes: 
---
==Minutes=
7:00PM Call to Order
Attendance:

====
***CONSENT AGENDA - ***
Passed by consensus


**OLD BUSINESS**
None
**NEW BUSINESS**


NB1 Complimentary Membership (Brad Hess)
- AS WRITTEN:  Award Complimentary Membership to Chris Horn
- DISCUSSION:
  - Speaker1: Brad added 4 stipulations
- Motion: Award Complimentary Membership to Chris Horn with the following stipulations: (1)Take New Member Orientation (2) Teach classes; Number TBD (3) Open Leesburg on a TBD schedule
   - Proposed by:  Hess
   - Seconded by:  Bullis
-Call for vote
   -  In favor:  Hess, Bullis, Painter, Werling, Waldron
   -  Opposed:  None
   -  Abstain:  None
   -  Motion Pass/Fail:  PASS
====

Next meeting set for September 25, 2019 at 7:00PM at 106 Royal Street NE, Leesburg, VA

8:16PM Meeting called to close
Action Items:
---
| Status | Item Description | Responsible Party |
| --- | --- | --- |
| | | |
| | | |
| | | |
| | | |
| | | |
Approved Spending Tracking: 
---
| Amount | To | From |
| --- | --- | --- |
| $60 | Quickbooks | General |
| | | |
| | | |
| | | |
| | | |