Skip to end of metadata
Go to start of metadata
Time and Location:
---
January 29, 2020 at 7:00PM at 106 Royal Street NE, Leesburg, VA
at 7:00PM at 785  S.20th . Street, Purcellville, VA
Consent Agenda
---
Newly proposed agenda items appear in the consent agenda. Any member present at the meeting may pull an item out of the consent agenda for discussion, at which point it goes under "New Business". If nobody objects to the solutions presented by the consent agenda, everything in the consent agenda passes by consensus. Items that have more than one proposed solution should be moved to the "New Business" section.
Any member may edit this wiki page and place an item on the agenda. However, discussion of agenda items should be done via Slack. The cut-off time for addition to or revision of the consent agenda items is 48 hours prior to the meeting. Please note, agenda items (Consent, New, or Old) that request spending $250 or more must include a section on "Relevance to our tax exempt purpose".
None
Member Reports:
---
Mark: I think there is an error in the label on Board Class for Board members.  I do believe that Jim Waldron and Brad Hess were elected last and as such should be labeled at Class 1 members.  Erin, Michael and Brandon should be up for rolling off or re-election after Mark and Dave are rolled off or re-elected this year.
Committee Reports:
---
New Membership Committee (ChairpersonMark R Millsap)
Committee Members: Jen Netsch, Jessee Maloney, Anthony Lesink, Ed Gabb, John Dubelko, Bryan Boston and Mark Millsap (chair)
1 Orientation Workshops in January; only one member showed up: Robert Johnson.
2 Orientation Workshops scheduled in February: 2/8 at MS-P to be led by Anthony Lesink, 2/25 at MS-L to be led by Mark Millsap
Next New Member Committee meeting: 2/12 at MS-L at 7:00 pm to 8:00 pm
Some committee member assigned tasks:
Mark: Exported member spreadsheet. It's in the New Member folder . . . Shared Drives --> Marketing --> New Members. If you can't see the Shared Drives after logging into Google Drive with your Makersmiths.org email address, let me know and I'll see why and fix it. Get 'Store' ready to have members order tee-shirts via web site.
John and Mark to figure out how to track and get shirts to members.
Anthony: Write a draft cover letter to members as to why we're asking to check and edit (add, change, etc.) their interests in their Member Profile. Send Mark date/time for February New Member Orientation event that he'd be willing to lead.
John: Capture some of the Slack metrics from the Analytics page and document so we can share it with members.
John and Bryan: get five tee-shirts, one each of S, M, L, XL, XXL in a box at each location. Need to talk to Dave or Tom as to where to store it. (What about asking someone to make a nice cubby box(es) for one of each tee-shirt to display?)
Jen: Work with John and Mark and figure out how to print new badges, then print the badges ready to print. Figure out how to marry photos and frames to print new badges. Figure out how to store photos on Wild Apricot site so pictures show up in Member Directory.
Ed: Draft an outline of steps involved in producing badges including getting photos of members into WA so they show up when viewing Directory.  Also, find/procure storage bid, label it and find spot for it in Member Storage at MS-L
Ceramics Committee: (Chairperson Jen Netsch)
Julie is continuing to offer great classes for Valentine's Day and now also one for Easter and another for Mother's Day!  Also will be offering the option for parents to sign up with a 10 yr old+ child, to include that group into classes.  We are working on networking & marketing the group to get more people aware that we are open and having classes.  Will look into local options for displays, like libraries and local businesses.  Dianne assisting with contacting local artists who have participated in the studio tours, once Jen drafts a letter for her to send.  Jason Hill interested in offering classes once spring gets here and Julie is less available and he is working on new subjects for classes now.
Social Outreach Committee:  (Chairperson Jessica Maloney)
Leesburg Facility Committee (Chairperson Brad Hess)
Purcellville Facility Committee (Chairperson Tom Hill)
Scheduling Committee (Chairperson Diane DeMott Painter) The Jan. meeting was held on 1/28/2020. See the minutes stored in files. 
Special Projects Committee (Chairperson Mike Werling)
Newsletter Committee (Chairperson Erin Werling)
IT Committee (Chairperson Michael James)
Meeting on January 16th was Attended by Jennifer Chu, James Waldron, and Michael James.
James Waldron gave a talk on the technology behind the new traffic light system. He showed the hardware including some of his own custom boards and the software that is integrating with the slack channels and soon Alexa and an Android Widget.
We looked at how better to prioritize our IT resources and developed a list of priorities and posted them on the side of the cabinet in the 3D printing room. A decision to swap out the cabinet was made and a design for a laptop storage/charging station was developed. (NOTE: The Cabinet was swapped out during a Leesburg Work Day). The plotter was prioritized and heads were found and ordered for it. We discussed getting a price for a Windows Server License and creating a Windows Domain with an update server to help speed up computer updates.
Next Meeting Scheduled for Feburary 13th.
Environmental and Safety Committee (Chairperson David Lang)
Custom Frame Shop Committee (Chairperson Anthony Lesink)
Old Business:
---
Problem:  New Budget is need for FY20
Solution:  See Attached
Relevance to our tax exempt status:  
Proposed Motion:  Pass the Draft FY20 Budget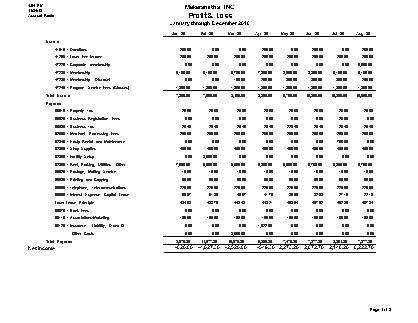 OB2  Makersmiths Radio Club Committee Formation (David Lang)
Problem: The Makersmiths Radio Club, established under FCC guidelines, does not have a governing committee.
Solution: Approve the attached Makersmiths Radio Club Committee proposal
Relevance to our tax exempt status: Supports our IRS National Taxonomy of Exempt Entities (NTEE) Code S30 Economic Development mission by enhancing community STEM education and emergency preparedness.
Proposed Motion: Approve the Makersmiths Radio Club Committee and appoint David Lang Chairperson.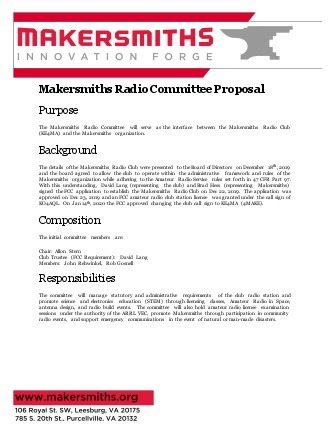 OB3 Description (Submitter's @)
Problem:  
Solution:  
Relevance to our tax exempt status: 
Proposed Motion: 
New Business:
---
NB1 Eliminate the 'short-term' discounts for Full Memberships (Mark R Millsap )
Problem:  Discounts to include the 12 months for price of 10 months and 6 months for price of 5 months membership discounts were never meant to be long term offerings.  These discounts were means to get large cash infusions up front in order to get fledgling Makersmiths makerspace up and going.  The discounts are becoming a source of confusion, and frustration and don't seem to be evenly offered to everyone at every level.   Cash flow accounting would become MUCH easier if discounts were eliminated, as would likely cash flow likely increased slightly. 
Solution:  Time has come to discontinue the discounts.  Board should give ample notice to those on discounted Memberships that when time for renewal, those Memberships will be converted to Monthly-Recurring membership.   This change in policy would effect 12 out of 47 Full Memberships (27% of Memberships) at the moment.
Relevance to our tax exempt status:  None
Proposed Motion:  I propose that discounted annual and semi-annual memberships be sunset at next renewal this time next year.  This would provide a one-year notice to those members utilizing discounted memberships currently.
NB2 Leesburg HVAC (Submitter's John Dubelko )
Problem:  HVAC at Leesburg is in need of replacing
Solution:  3 bids have been received 
Relevance to our tax exempt status: none
Proposed Motion:  Evaluate the three bids and choice one of the bidders to replace HVAC at Leesburg  (note: Bids and company names are available to Members by request.) 
NB3 Basement Build-out in Leesburg (Submitted by Maggie Toth)
Problem: Makersmiths Leesburg basement is not being utilized
Solution: Build out workable spaces in the basement- including a multi-use room, vacuum former, and second bathroom for the space. Please see proposal documentation here: https://docs.google.com/document/d/1FiZYgOOaP0HGCU6TtETTW_9-mOdJ_aSftk-P84SK9Ac
Relevance to our tax exempt status: We believe none.
Motion: Board to approve build out of basement with cost of either $2,302 or $6,902 depending on vacuum former option chosen.
Minutes: 
---
==Minutes=
TTTT Call to Order
Attendance:

====
***CONSENT AGENDA - ***
Passed by consensus


**OLD BUSINESS**

OB1 Makersmiths Radio Club Committee Formation (David Lang)
- AS WRITTEN:  Approve the Makersmiths Radio Club Committee and appoint David Lang Chairperson.
- DISCUSSION:
  - Speaker1:
  - Speaker2:
- Motion: Approve the Makersmiths Radio Club Committee and appoint David Lang Chairperson.
   - Proposed by:  Michael James  
   - Seconded by:   Brad Hess
-Call for vote
   -  In favor:  Brandon Bullis David Painter Brad Hess James Waldron Mark R Millsap Erin Werling Michael James
   -  Opposed:  None
   -  Abstain
   -  Motion Pass/Fail:  PASSED
**NEW BUSINESS**

NB1 Eliminate the 'short-term' discounts for Full Memberships (Mark R Millsap )
- AS WRITTEN:  I propose that discounted annual and semi-annual memberships be sunset at next renewal this time next year.  This would provide a one-year notice to those members utilizing discounted memberships currently.
- DISCUSSION:
  - Speaker1: Brandon Bullis we should consider eliminate them now due to difficulties in administrating them in Wild Apricot.
  - Speaker2:
- Motion:  Discounted annual and semi-annual memberships be eliminated.  Existing discounted memberships will continue through their natural expiration.  Any membership renewal will need to be at the standard rates.
   - Proposed by:  Mark R Millsap
   - Seconded by: Brandon Bullis
-Call for vote
   -  In favor:  Brandon Bullis David Painter Brad Hess James Waldron Mark R Millsap Erin Werling Michael James 
   -  Opposed: None
   -  Abstain: None
   -  Motion Pass/Fail:  PASSED
NB2 Leesburg HVAC (Submitter's John Dubelko )
- AS WRITTEN:  Evaluate the three bids and choice one of the bidders to replace HVAC at Leesburg  (note: Bids and company names are available to Members by request.) 
- DISCUSSION:
  - Speaker1:  John Dubelko reviewed with the Board the 3 competitive bids for replacing the HVAC in Leesburg location
- Motion:  Approve new HVAC for Leesburg pursuant to bid from Company 3 for $16,880.
   - Proposed by:  James Waldron
   - Seconded by: Michael James
-Call for vote
   -  In favor:  Brandon Bullis David Painter Brad Hess James WaldronErin Werling Michael James 
   -  Opposed:  Mark R Millsap
   -  Abstain: None
   -  Motion Pass/Fail:  PASSED
NB3 Basement Build-out in Leesburg (Submitted by Maggie Toth)
- AS WRITTEN:  Board to approve build out of basement with cost of either $2,302 or $6,902 depending on vacuum former option chosen.
- DISCUSSION:
  - Speaker1:  David Painter indicated he may have a vacuum former for co-location at the space
  - Speaker2:  Michael James made a point that Makersmiths needs to start building out spaces to a higher standard in order to increase membership
-Speaker3:  Brandon Bullis expressed concerns about certain proposed budget items
Speaker4:  All agreed to on making the basement space usable and expressed interest in getting it done.  Agreement on $1000 initial budget and expressed willingness to consider additional funding requests if initial budget ultimately proved insufficient.
- Motion:  Board to approve $1000 for the build out of basement.
   - Proposed by:  Brandon Bullis
   - Seconded by: Brad Hess
-Call for vote
   -  In favor:  Brandon Bullis David Painter Brad Hess James Waldron Mark R Millsap Erin Werling
   -  Opposed: Michael James
   -  Abstain: None
   -  Motion Pass/Fail:  PASSED

====

Next meeting set for February 26, 2020 7:00PM at 785  S.20th . Street, Purcellville, VA
9:00PM Meeting called to close
Action Items:
---
| Status | Item Description | Responsible Party |
| --- | --- | --- |
| | update memberships and pricing in Standing Rules | |
| | | |
| | | |
| | | |
| | | |
Approved Spending Tracking: 
---
| Amount | To | From |
| --- | --- | --- |
| $1000 | Basement build out | General |
| $16,880 | Leesburg HVAC | General |
| | | |
| | | |
| | | |